Mr Gration came to Buckingham Ford with his father in laws Morris Minor; he decided as a surprise to his wife and mother-in-law he would get her Fathers/Husbands Morris Minor completely restored and resprayed. When the car came into the workshop the paintwork had faded and there was some rust in places. the car had the rear wings removed and had new replacement wings in boxes.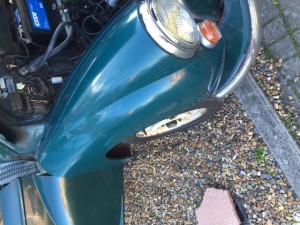 We removed all chrome work, the boot, the bonnet and the doors in order to repair the driver's door where it had been bent over at the top. We then removed all seals and sealant from around the car so we could prep the car before we began painting. We found a few hidden areas that needed our attention
We prepared all panels for painting including treating any areas of rust with rust treatment and filled in any minor dents/blemishes.
Once we have removed all minor dents and blemishes on the bodywork w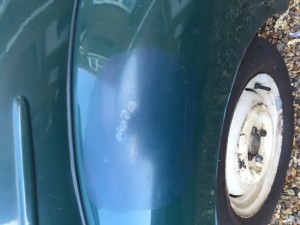 e prepped the car so it was ready to paint, as instructed we painted with all the glass in place which we knew may result in small masking issues but they were kept to a minimum.
We later painted the whole exterior of the car with primer in order for us to get a good smooth base colour which will aid the top coat in looking its best.  When discovering the final finish colour we were able to use current matching techniques to get the closest possible match, we then painted into the gutters in the boot and bonnet area. We used suitable tape to tape off around the door shuts to minimise any difference in the paint.
In additio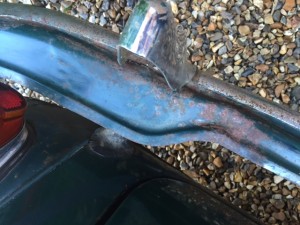 n to a car rejuvenating experience we did some welding and repairs to the car where it had become rusty, the repairs included, welding the O/S floor under the seat, all four wheel arches, both sills, lower parts of both doors and then we removed and install tyres and paint all four wheels.  To add the final touches to this classic we masked the interior and painted the dash panel as it had been painted a different shade of green sometime in the past.
Work in progress
Leaving our workshop looking all brand new ready for Mr Gration to reveal the big surprise.